Constant Nieuwenhuys  [ 1 ], (better known as Constant) was a Dutch painter who very early on his career became a restless artist, always searching for new ways of  expression. He was as much a painter as an sculpture, graphic artist and also a musician. In 1948 he founded  alongside with Corneille and Karel Appel "The Holland experimental group"   which they used as a platform to exhibit their art. For Constant, art should be experimental, and a result of the artist's experience, the process (he said) had to be more important than the work itself.
The experimental group evolved in a bigger an also a collective of artists called CoBrA, acronymous of Copenhagen,  Brussels and Amsterdam.
This group rapidly became famous for their style (which basically broke with any other style) and the comments from the critics where not positive. Despite that, they continued developing their work and ideas, but got dissolved in 1951.
After the CoBrA period, Constant became more abstract but also more aware of spacial matters such as architecture and three dimensional constructions, with Aldo van Eyck[ 2 ], whom he met during that period, he created a space for the exhibition 'Man and House' at the Urban Museum Amsterdam from 1952-1953.
In 1954 he worked on a project with Gerrit Rietveld, together they created a model house for warehouses for a  prestigious department store in Amsterdam.
Constant spent a few months in London, where he discovered (trough walks of a bombed streets) a different point of view of the cities,  and he became more interested on how cities should be constructed.
This events and experiences along  with the relation that he kept whit Guy Debord, who he met during a congress in Italy nurtured his vision in urban  and sociological matters, so he joined Debord in a new group called Situationist International (SI). The philosophy of the group was founded in the idea of a unitary urbanism, and  what they called: PsychoGeography, which implies an explorations of urban environments  and the experience of drifting along the streets, a king of method of knowledge or mapping of the city. They claimed that the urban atmosphere should allow art to be involve in the life of people.
As a result of many differences between their members, the group got dissolved  in 1961, after that Constant returned to Amsterdam, full of ideas focused on his New Babylon project, the one that he had spent working on for many years through sketches, paintings and texts.
From 1956 to 1974 he dedicated his efforts to the construction of 3d models, collages and drawings to represent his ideas about a new configuration of a modern city. 
Constant envisioned a place whit "no rules" no ownership and no restriction for creativity and art as part of the daily life, his cities have to be nomad to allow movement and change.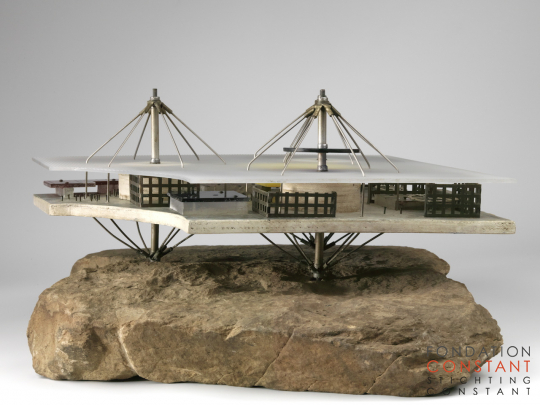 Trough these ideas, the city as a collective space could be seen not as a place but as an experience, and trough these experiences memories, objects and new paths can be constructed. 
We find Constant's ideas very valid nowadays  and a useful tool for the understanding of  how modern cities are constructed and shaped  not only  physically but socially and more important, as a  manifestation of human behavior. We strongly recommend to review his ideas and manifestos.
[ 1 ] https://stichtingconstant.nl/biography-of-constant-nieuwenhuys